Lauren's Kitchen: Spicy Chickpea Soup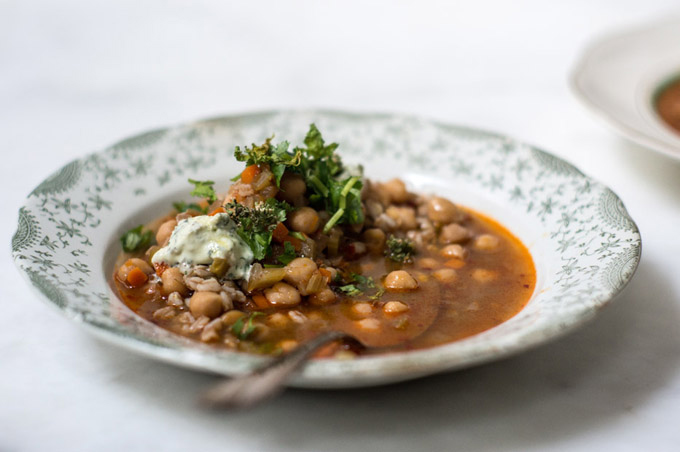 OK already, Austin weather! Looks like we are in store for a number of cold wet days again. Brrrrr. The good news is I happen to love soup and have an endless array to share with you. The bad news isn't really bad but the stock pile of luscious salads and salad dressings I'd like to pass on to you continues to grow while we all wait out these Austin-style cold fronts.
Here's a winner my daughter Kate shared with me a few weeks back when she gifted me with a jar of homemade harissa paste. While she hasn't yet shared the harissa paste recipe (hmmmm) I have continued to make the soup with this readymade blend from Vermont's Teeny Tiny Spice company and it was delicious.
The recipe comes from Yotam Ottolenghi's, Plenty More: Vibrant Vegetable Cooking, which, by the way is a worthy investment. Today's soup recipe, while not completely dairy free or gluten free, substitutions are easy enough and I'll guide you through what I did for my family.
Chickpeas are a wonderful plant-based protein to be served in the evening when your body can spare the extra energy it takes to digest and is preparing for long stretch of sleep.  Chickpeas are neutral when it comes to pH, so start your meal with a high alkaline dinner plate full serving of mixed greens or kale salad to balance things out.
Spicy Chickpea and Bulgar
2 tablespoons olive oil
2 small onions, cut into 3/8 inch (1cm) dice
4 cloves garlic, crushed
2 large carrots, peeled and cut into 3/8 inch (1cm) dice
4 celery stalks, cut into 3/8 inch (1cm) dice
2 T harissa paste or 1T of harissa spice blend
1 t freshly ground cumin
1 t freshly ground coriander
1 1/2 t whole caraway seeds
2 1/2 cups (500 g) drained cooked chickpeas (canned are fine but rinse well)
4-5 c (1 liter) water
3/4 c (100 g) coarse bulgur wheat (rice, millet, or quinoa all sub in well)
3 t fine grain salt, or to taste
black pepper, to taste
Replace the recommended feta topping with chopped cilantro and a squeeze of lemon and/or Dukka, an Egyptian nut & spice mix
Cooking instructions follow here on Heidi Swanson's 101 Cookbook Blog