Lauren's Kitchen: Cucumber Peanut Salad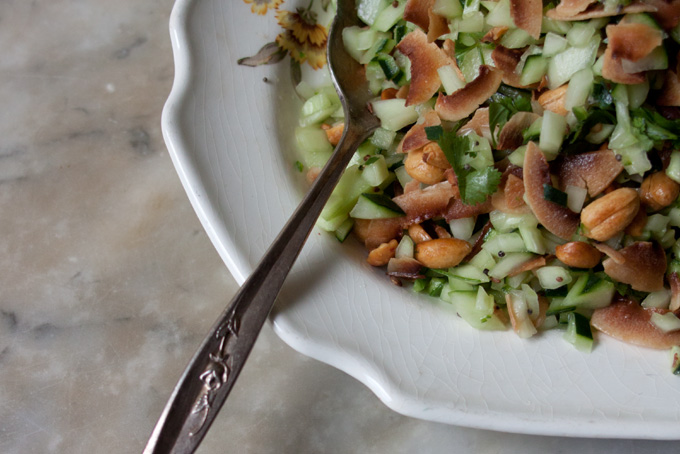 Yes, it is anther cucumber recipe but seriously they are the fruit of the season and are so cooling for the body which is welcome this month. This is a salad that will bring all of your favorite tastes together in each bite; spicy, sweet, crunchy, and salty. While the ingredients for this salad can be prepped ahead you won't want to mix them until serving time as the peanuts tend to lose their crunch. I have my daughter Kate to thank for this recipe and Heidi Swanson who featured it on her ever inspiring blog 101 Cookbooks. It's now a summer staple.
Here are the ingredients you will need:
3 medium cucumbers, partially peeled
1-2 green serrano chiles, stemmed and minced (I suggest going easy here and start with ½ a chile)
1/2 c / 2.5oz / 70g peanuts, toasted (purchase raw organic from the bulk section)
1/3 c / 1.5oz / 45g dried large-flake coconut, toasted (I toast in a pan to keep close watch but the oven works equally well just keep an eye on it as it burns quickly)
2 T fresh lemon juice
1 t natural cane sugar (I substitute coconut sugar or maple syrup)
1 T, ghee, clarified butter, or sunflower oil (or coconut oil)
1/2 t black mustard seeds
1/4 t cumin seeds
scant 1/2 teaspoon fine grain sea salt
a handful cilantro, chopped
Full instructions can be found here.
Immunity matters!
Learn to support your health naturally with weekly tips
delivered straight to your inbox.
You may also be interested in:
Thank you, Hetty McKinnon, once again, for your inspiration. This is certainly one of those recipes that just writing it out prompts the desire to make it. So while you are reading, I will be serving myself.  Ingredients 12 ounces dried or fresh thin noodles ( I subbed in Jovial GF Spaghetti which worked well)…