Lauren's Kitchen: Roasted Beet and Quinoa Salad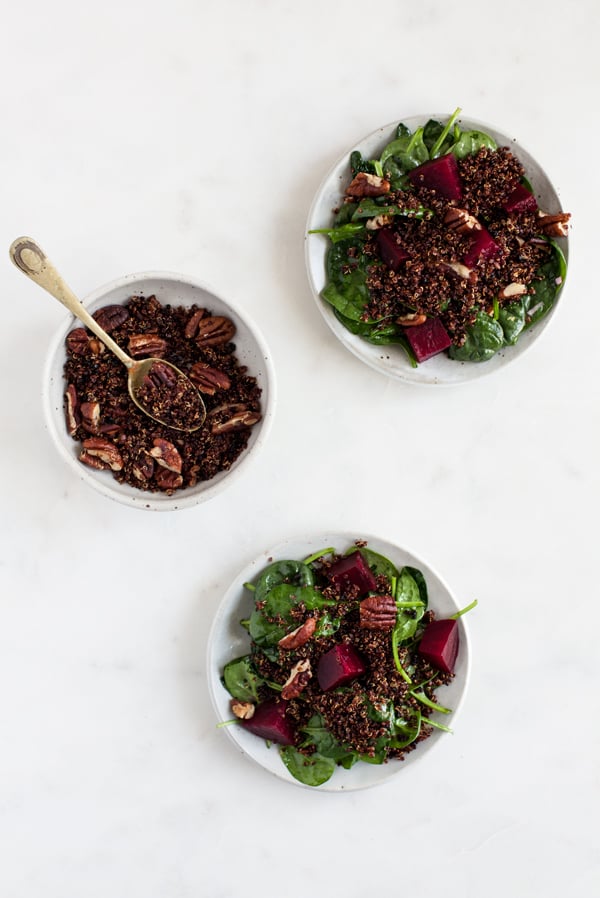 There is not a holiday meal that would not be honored to share the stage with this first course beauty! The vibrant colors of this Roasted Beet Salad pales only in comparison to its taste. While this is a gluten free and dairy free recipe it will please all the guests at your table even if it happens to just be the ones who join you every night.
In the case you like to play with flavors like I do and want to mix this up a bit, may I suggest roasted butternut squash cubes to replace the beets and toasted pumpkin seeds instead of the pecans? Just as colorful and it feels like an entirely new dish.
Ingredients
4 med red beets (about 1 bunch), washed, stems remove and ends trimmed
3/4 c dry red quinoa
2 t grapeseed or melted coconut oil
1 T + 1 t maple syrup
1 tablespoon tamari (I also would try Coconut Teriyaki Aminos)
1/4 c roughly chopped pecans
2 T walnut, hazelnut, or extra-virgin olive oil
2 t apple cider vinegar (or lime juice)
1/2 t salt
1 T chopped shallots
5 heaping cups baby spinach (about 5 oz)(or baby kale mix)
Immunity matters!
Learn to support your health naturally with weekly tips
delivered straight to your inbox.
You may also be interested in:
Adapted from Alexa Weibel's Vegan Bolognese  Trust me on this, double this recipe because you will surely want more later in the week ahead.  Ingredients 1 cup (100 grams)  shelled gently chopped toasted walnuts  Kosher salt and black pepper 1.5 lbs fresh mushrooms (use a combination of shiitake and baby bella)  olive oil, plus more…