Lauren's Kitchen: Cucumber Corn Salad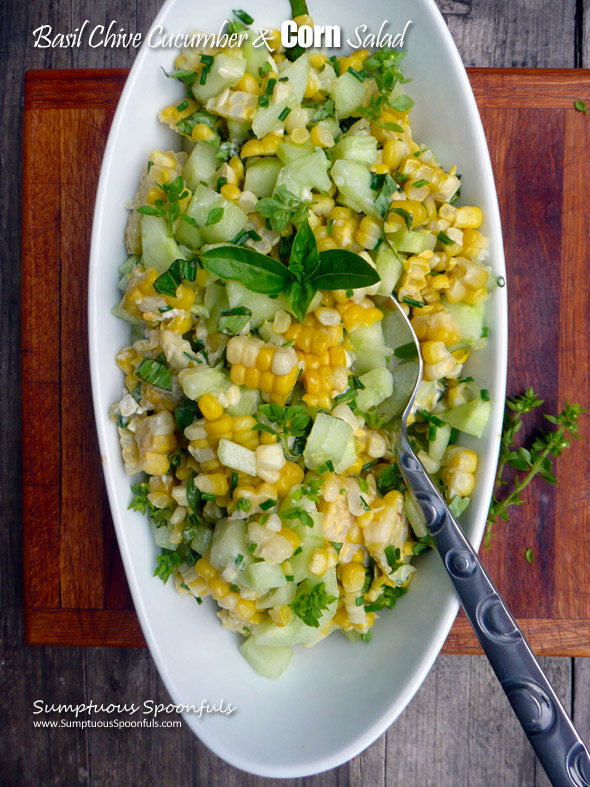 So my husband, Joachim, and I share the grocery shopping as well as meal prep at our house. It is a unique divide however. He manages and maintains the fruit inventory because he makes the family morning smoothies and knows what he needs. You will recognize him as the guy at HEB or Whole Foods with a grocery cart brimming with fruit. My job on the other hand is the evening meal which consists of raw vegetable salads and a plant based main course, so you can only guess what my cart looks like. Anyway, somehow this week we were both tempted by the abundance of local organic corn (which is not a fruit by the way) and ended up with more than we wanted to eat straight off the cob. The bounty left me searching for ideas, which is how I came across this refreshing cucumber corn salad. It was so amazing that I have to go buy more corn!
The recipe calls for this simple list of ingredients:
3 cups cooked cut corn (from about 5 medium cobs)
2 cups cucumber, peeled, seeded and chopped (about 1 large cucumber)
1/2 cup basil, chopped
1/4 cup chives, snipped
2 Tablespoons light mayonnaise (I suggest this vegan mayo and a splash or two of olive oil to thin it)
Salt & fresh ground pepper, to taste
Be sure to make a double batch as it packs up well for lunch the next day. Full directions available here.
Immunity matters!
Learn to support your health naturally with weekly tips
delivered straight to your inbox.
You may also be interested in:
I will apologize right up front to my dear Hispanic readers for my straying from tradition with this recipe. And yet such is the life of the vegan, always in search of ways to capture the essence of traditional recipes.  So please forgive me as I share this quick and tasty interpretation.  Ingredients 8 Yellow…